Description
Youghiogheny stained glass is the highest quality art glass suitable for mosaic artwork currently available on the market. We are very excited to be able to make this premier product available to our customers. Made in the USA. Youghiogheny stained glass is sold in 6-inch sheets like the rest of our stained glass. Some sheets will have a rippled end along one side of the glass. The glass has a wavy characteristic to it, as opposed to being completely flat. The thickness is remarkably uniform at exactly 3 millimeters, which is about 1/8th of an inch.
Finishes
We primarily carry Youghigheny's High-Strike HS and Stipple SP glass lines, as indicated in the product number of each variation. Glass labeled RG is Reproduction Glass; these are authentic reproductions of Tiffany stained glass. High-Strike glass is a traditional mottled art glass and looks glossy. Stipple glass is high quality and has a waxy, ice-like effect, with a textured, shiny finish. RG glass usually has a finish that is very similar to the HS glass.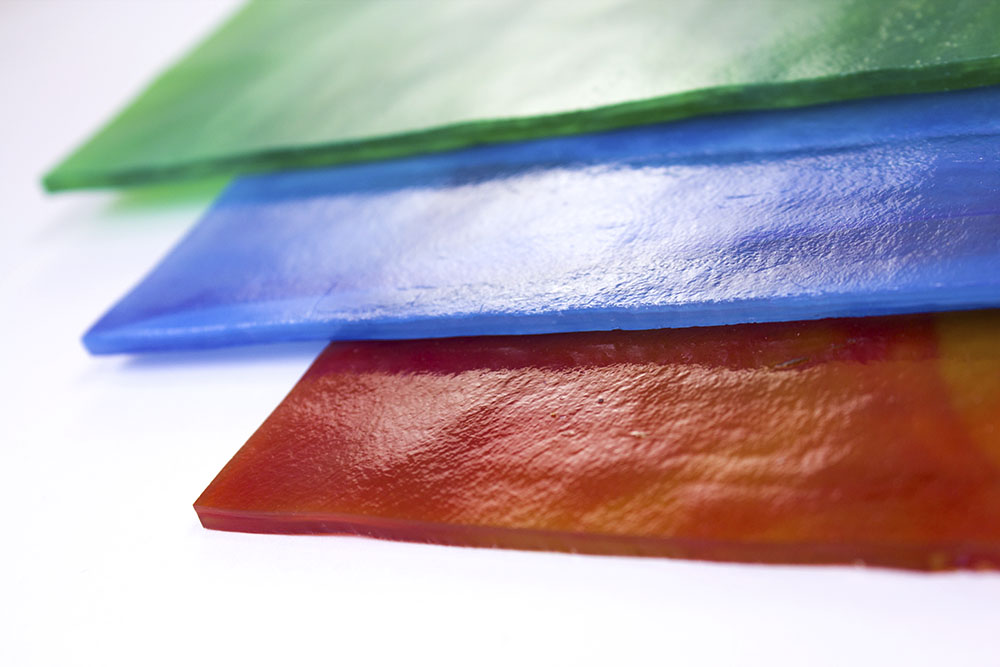 The differences in texture and finish between HS SP and RG glass shouldn't cause concern for most mosaic artists. We have used Stipple and High-Strike glass right next to eachother in the same projects along with our other brands of stained glass with spectacular results. An N in the product number refers to use of neodymium for a strong purple pigment. The letter i refers to iridescence on the face of the glass.
Youghiogheny Stained Glass Sheet 6-Inch
STAINED GLASS VARIES IN COLOR AND PATTERN BY SHEET. Do not order if you cannot tolerate variation.
Price is for one sheet of stained glass approximately 6 inch x 6 inch
Sheets are cut by hand using a straight edge and are not always perfectly square.
Sheets are cutting stock for making small mosaic tile and are not sold as finished mosaic tile.
Thickness: 3 mm or 1/8th of an inch
Pigments: colorfast metal oxide.
Coverage: 1 sheet covers approximately 1/4 square feet.
Cuts relatively easily with Mosaic Glass Cutters.
frost proof
impervious to liquids
Suitable for indoor and outdoor installation.
NOT suitable for floors. More fragile than glass tile.
Stained glass can be cut into small irregular tiles quickly and easily with our
Mosaic Glass Cutter
, but for long straight strips and square tiles and curved shapes, you can use the
Pistol-Grip Cutter
and
Running Pliers
. Stained glass can have sharper edges than regular molded glass mosaic tile, so care must be used in cutting, handling, and grouting.
Stained glass varies in color and pattern by sheet.
Do not order if you cannot tolerate variation.
Product Coverage
Each sheet covers approximately 1/4 square feet when uncut. When you cut it up, you will gain additional coverage from the grout gap, but you will also lose some coverage in the form of cutting waste.
Compatibility
Tile thickness is 3mm or approximately 1/8 inch, which is NOMINALLY the same as most of the
glass mosaic tile
we sell. That being said, mixed-media mosaics and even mosaic table tops are routinely made from dissimilar materials with even greater differences in thickness.
Cutting Tile
Stained glass and glass tile can be cut quickly with minimal force using our
Mosaic Glass Cutters
, and that is the tool we use in our studio to cut irregular rectangle and triangle shapes for use in our mosaics. For long straight cuts and curved cuts, the
Pistol-Grip Cutter
should be used to score the glass, and a pair of
Running Pliers
should be used to snap it.
Use In Mosaic Art
Stained Glass is non-porous and can be used outdoors, but we don't recommend it for flooring. We don't recommend buying these sheets for use as 6 inch tile either. The sheets are cut by hand using a straight edge, and so there is variation in size and the straightness of the cut. We sell the sheet as material for cutting into small mosaic tiles, not as a single finished tile. Stained glass is made for use in decorative windows and not as tiling. We have thought long and hard about what the safety and usage implications are of using stained glass for tile, and there is one issue that seems particularly important: If a mosaic becomes damaged where there is sharp broken broken glass mounted to a surface where it could cut someone, then use the fine edge of a
marble file
to smooth the edge until you can replace the tile. This also applies to mosaics made with molded tile. For dry indoor mosaics, stained glass can be mounted using
Weldbond adhesive
, but
thinset mortar
should be used for outdoor and wet mosaics. In either case, stained glass should be rinsed with detergent to remove any traces of
cutting oil
.
Rendering With Tiles
Stained glass art often makes use of custom-cut pieces that define entire figures or components. In mosaic art, the approach is different: figures and components are almost always built up from multiple tiles unless the object in question is particularly small. These two modes of rendering images are different aesthetically, and they aren't compatible. From the years of customer artwork that we have reviewed, we have noticed that it is best to stick to one approach or the other for a particular piece of art and not combine them. Think of it this way: If most of your mosaic is made from individual tiles where no individual tile is a hand or face or tree, it can look strange to have one individual hand, face, or tree that is all one piece cut from a sheet of stained glass.
Smoothing Sharp Edges
Stained glass often has sharper edges than molded glass mosaic tile when cut. At our studio, we use the fine edge of a
marble file
or a
rubbing stone
to knock off any razor edges remaining after cutting.
American Made
Youghiogheny stained glass is made in Connellsville, Pennsylvania on the Youghiogheny River. This is quite possibly the most beautiful glass made in the world, including Italy. This is a great opportunity to buy an American-made product and support high labor and environmental standards at a price that is competitive with molded glass tile made in China.
How To Make Mosaic Art
For more advice on designing your mosaic project or mounting, cutting, and grouting tile, please see our page of
Mosaic Frequently Asked Questions
or our
Mosaic Information Guide
, which lists instructional pages described by topic. We also post new articles about making mosaics at our
How to Mosaic Blog
. ;
;